Congratulations to our summer undergraduate intern, Carina Kazmierowicz!
Carina received a special invitation to the D.E. Shaw Research, Fall Summit for Women in the Computational Sciences, Friday, 7 November in New York. Carina spent her summer research internship in Professor Mark Asta's group. They found out about her from the Asta group homepage. What a great opportunity!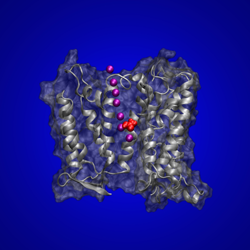 About D. E. Shaw Research
D. E. Shaw Research is a scientific computing and research group based in Manhattan.  Our team develops custom hardware and software to carry out structural biology and biochemistry research, focusing primarily on molecular dynamics simulations of proteins and other biological macromolecules.  This is an ambitious, long-term project with the potential to transform the process of drug discovery.